Dear Colleagues,
Thank you one and all for joining Portland Potager, our Flavor Foray in Portland October 16 to 18, 2017. We enjoyed seeing old friends and making new ones and hope you will all come with us on future journeys.
Watch this for some serious pork chops!
Wasn't Peter Cho's Han Oak magical? As one of our chefs exclaimed, "That guy can cook!" And so can Earl Ninsom of Langbaan who wowed us with those perfectly cooked Duroc pork chops and that delectable Dungeness crab salad. Hats off to Troy MacLarty at Bollywood and Aaron Adams of Farm Spirit and Melissa McMillan of Pastrami Zombie and David Sapp of Park Kitchen for their stellar contributions. And what about David Martin's xurros at 180 and Pip's donuts!
And the wines! What an honor to have Veronique Boss-Drouhin herself lead our tasting at Domaine Drouhin and Chris Cullina certainly pulled out all the corks on the bubbly at Argyle. We also appreciate the wines both poured at our dinners. The Oregon Raspberry and Blackberry Commission couldn't have picked a more scenic location to show off their berries than Domaine Serene. Plus who knew Oregon produced olive oil before we went to the Oregon Olive Oil Mill at Red Ridge?
Many thanks as well to Aria Gin and Bull Run Distillery for their cocktails and to Christian Di Benedetti of Wolves & People Farmhouse Brewery. And who knew you could get Sangria in cans before we met the guys from Portland Sangria?
Have you ever been to tea in a hotel that rivals the Samovar Russian Tea Service Vitaly Paley created for the Heathman drawing on his Russian heritage?
Don't you love all the energetic artisans? Ben Jacobsen started his company with just him in 2011 hauling salt water in the back of his pickup truck from Netarts Bay to Portland. Now he sells his salts and other products nationwide. The antique oyster-trailer-turned-table, set with sparkling Krysta Sequence Collection wine glasses provided by ARC Cardinal, seated our entire group for a welcome dinner in his loft. Salumist Elias Cairo put Olympia Provisions on the map as Oregon's first USDA approved salumeria. Sarah Hart was inspired to start making those delectable Alma chocolates in 2005 because she couldn't find an acceptable chocolate Easter bunny. Matt Higgins started Coava coffee roasters in his garage in 2008. These are the makers who are making Portland a special food scene.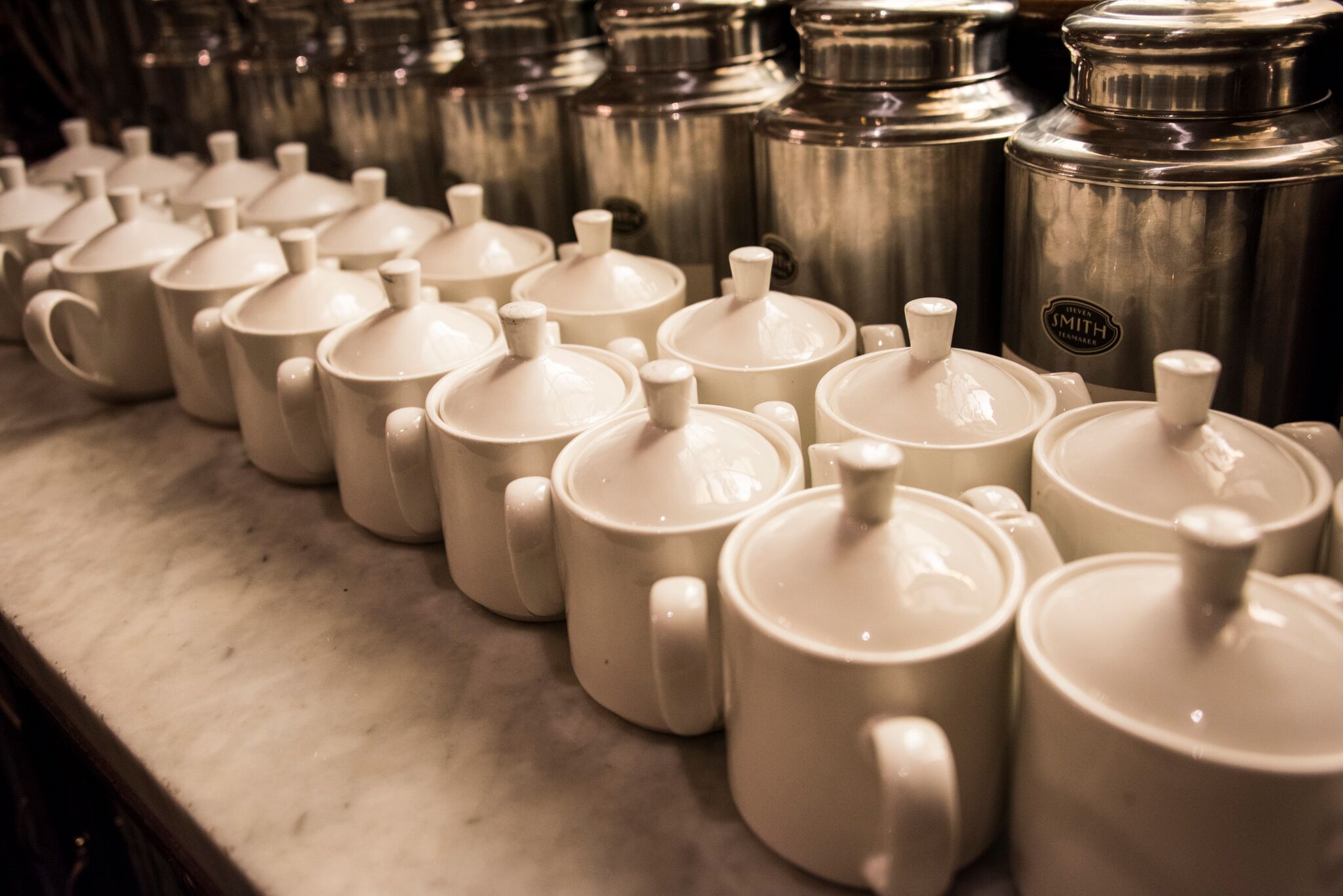 Many, many thanks to all our wonderful sponsors: IMS/Bigelow Tea, Jade Range/Beech Ovens, Smithfield Foods, Chefwear/Landau Uniforms, ARC Cardinal, the Oregon Raspberry and Blackberry Commission. We couldn't have done this without you.
Thanks to Oregon expert Judiaann Woo (@judiaann), a former colleague at Food Arts, who introduced us to so many of these wonderful locals.
We couldn't have enjoyed a better home base than the Dossier Hotel. Thanks to Stephen Galvan and the wonderful staff for taking such good care of us.
All along the way, our terrific photographer Nannette Bedway was on the job making memorable pictures. She's happy to share if you need anything.
Happy travels,
Barbara Mathias and Beverly Stephen
Flavor Forays